Aktiviteter i nærheden

Scroll down for English version
Tour de France 2022
Naturoplevelser
Blot et stenkast fra Bella's Bed & Breakfast ligger skoven og markerne. Her kan man gå på opdagelse omkring Grejsdalen og måske følge åen og jernbanen helt ind til Vejle. Går man ned langs med Grejs bakke vil man støde på Grejs Klipper, de såkaldt eneste synlige frådsten i Danmark (ifølge Danmarks Naturfredningsforening).
Uldum kær er en anden naturmulighed i nærheden, et særegent område med et rigt fugleliv og forskellige lokale aktiviteter.
Kultur og historie
I Jelling, cirka 12 min. kørsel i bil fra Bella's Bed & Breakfast, kan man blive opdateret på dansk kongehistorie ved at besøge Thyra og Gorm Den Gamles gravhøje samt Harald Blåtands Jellingestene.
Er man til kunst, er Vejle Kunstmuseum også et besøg værd.
Visit Vejle har på deres hjemmeside en opdateret liste over aktiviterter i Vejle og omegn.
Til børn og barnlige sjæle
Legoland er en oplagt mulighed for børnefamilier, og det ligger blot 30 minutters kørsel fra Bella's Bed & Breakfast.
Er man mere til dyr og natur, ligger Givskud Zoo cirka 20 minutter væk.
Shopping/lokale lækkerier
Området omkring Grejs er i de senere år blomstret op med små lokale forretninger. En rask gåtur fra Bella's Bed & Breakfast kan man købe ost fra lagersalg eller friske økologiske æg.
I Grejsdalen ligger to spændende interiør og antikvitetsbutikker, henholdsvis Godt brugt og Butik Artefakt.
Et lokalt ismejeri har i 2014 fået medvind og vundet indpas hos danskerne. Engmark is laver økologiske flødeis på Jerseymælk og de gør en dyd ud af kun at bruge danske, lokale og sæsonbestemte råvarer i udviklingen af forskellige smagsvarianter. Du kan besøge gårdbutikken og produktionen af Engmark is tæt på Bella's Bed & Breakfast.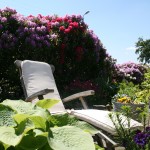 Sightseeing

 Dansk version øverst på siden
Tour de France 2022
Tour de France is coming to Denmark in 2022 and the 3rd of July the Tour will start in Vejle. Come stay at Bella's Bed & Breakfast during the Tour and enjoy the sights and special feel of Tour de France. Special prices during Tour de France week 26/27 2022, se prices here. Read more about Tour de France in Vejle here.
Nature
Just a stone's throw from Bella's Bed & Breakfast you will find forests and fields. Here you can explore the Grejs Valley (Grejsdalen), and perhaps take a walk along the river and the railway track to the city-centre of Vejle. If you walk down Grejs Hill (Grejs Bakke), you will pass "Grejs Rocks" (Grejs Klipper), which is the only place in Denmark, where you can find travertine-limestone.
Uldum kær offers another nature experience nearby. Here you will find a rich bird life and different hiking trails.
Culture and History
Only about 12 minutes' drive from Bella's Bed & Breakfast, you find the Unesco World Heritage site of Jelling. Here you can see the monuments (rune stones) of the vikingkings Gorm the Old and Harold Bluetooth, and the place, which is considered; "Denmark's Certificate of Baptism".
If you like modern art – visit Vejle Museum of Modern Art – Vejle Kunstmuseum.
At Visit Vejle's webpage you will find a current list of activities in and around Vejle.
For Children
Legoland is a must for families with young children, and you find it only 30 minutes by car from Bella's Bed & Breakfast.
Are you interested in animals,  Givskud Zoo and Safaripark is only about 20 minuttes away.
Local Shopping & Local Treats
During the recent years a number of small local shops have opened in the Grejs area. Within a brisk walk's range from Bella's Bed & Breakfast, you can buy cheese or perhaps organic eggs from a local farm.
In the Grejs Valley (Grejsdalen) you will find two very interesting shops for home interior and antiquities. Godt brugt and Butik Artefakt.
During 2014 a local diary has grown very popular among the Danes. Engmark is produces organic ice cream on milk from Jersey cattle, and they make a virtue of using only Danish, local and seasonal ingredients in the production of their various flavours. You can visit Engmark's farmshop and production facilities close to Bella's Bed & Breakfast.